Destiny 2: Xur location and inventory, April 3-6
It's time for Xur's return to Destiny 2.
Xur is back in Destiny 2 and this week he's on Io at Echo Mesa near Giant's Scar.
He's currently packing around an auto rifle, two sets of gauntlets and some leg armor.
Be sure to grab what you want before the reset hits on Tuesday, April 7.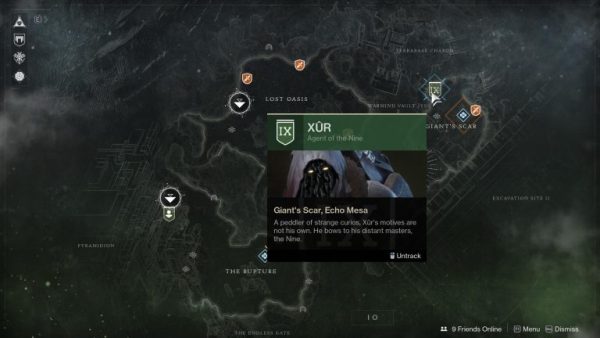 Xur inventory for April 3-6
Contraverse Hold [Exotic Warlock Ggauntlets] – 23 Legendary Shards
Hard Light [Extoic Auto Rifle] – 29 Legendary Shards
Orpheus Rig [Exotoc Hunter Leg Armor] – 23 Legendary Shards
Stronghold [Extoitc Titan Gauntlets] – 23 Legendary Shards
The Exotic weapon this week is the auto rifle Hard Light, which was first introduced with Destiny 1. It's exotic intristic is Volatile Lightm which makes it so when rounds are fire, they have no damage falloff, over over-penetrate targets, and ricochet off hard surfaces. Projectile damage will also increase after bounce. The magazine makes it so the weapon reloads faster when empty, and the weapon features the legendary trait, The Fundamentals. With this trait, holding changes the Hard Light's damage type, cycling between Arc, Solar, and Void.
The post Destiny 2: Xur location and inventory, April 3-6 appeared first on VG247.