Flashpoint Unveils the Ultra-Portable XPLOR 300 Pro Strobe for Just $500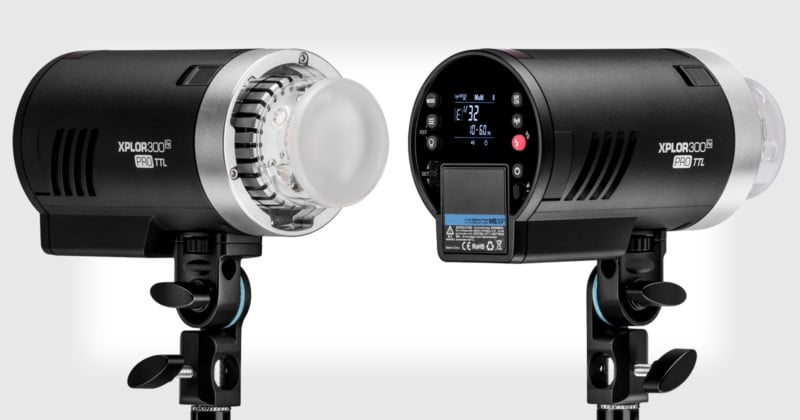 The Godox AD300 Pro (AKA the Flashpoint XPLOR 300 Pro) has finally arrived. After a lot of regional announcements and teasers and other tomfoolery, Flashpoint announced their version of the light—available immediately in the US—earlier today for just $500.
In case you've missed the YouTube hands-on tests and over-seas announcements thus far, the Flashpoing XPLOR 300 Pro is a 300W/s, battery-powered monolight that's ultra-light, ultra-portable, and is meant to be a much more affordable alternative to the 250W/s ultra-portable Profoto B10.
At just 7.5 inches long and about 3.8-inches in diameter, the XPLOR 300 Pro is the size of a beefy camera lens. But for something this small and affordable, it packs a solid punch. You get 300W/s of power with 9 stops of manual control, recycle time of 0.01 to 1.5 seconds, minimum flash duration of 1/220 to 1/11490, a 2600WAh battery that gives you 320 full-power flashes per charge, a bi-color 12W LED modeling light, and a 328-foot range using the same R2 trigger as former Flashpoint lights.
You also get through the lens (TTL) metering and high-speed sync (HHS) up to 1/8000 sec shutter speed, and an optional adapter ring gives you a Bowens S-mount so you don't have to buy all new modifiers.
Here's a quick intro from Flashpoint, and a hands-on video by Seth Miranda over at Adorama:
And here's a closer look at the flash from all angles:
It's incredibly tempting to call this light a "Profoto B10 killer," and in some respects you'd be right. You lose out on build quality, brand-name reliability, and some features, but at just $500 for the basic kit, the Flashpoint XPLOR 300 Pro is less than 1/3 the price of the $1,700 Profoto B10. Who cares about reliability when you could buy three of these for $200 less than a single B10, right?
Well, some people. And while we haven't seen any real-world comparisons yet, it's likely the Profoto will outperform the Godox/Flashpoint in terms of color consistency, Profoto definitely wins on flash duration, and the B10 offers a more granular level of control. But is that worth an extra $1,200 per strobe? That's for you to decide.
To learn more about this monolight or pick one up for yourself, head over to the Godox website or order yours here.