SwitchArcade Round-Up: 'River City Girls' Review, 'Hyperdrive Massacre' and Today's Other New Releases, 2K Games Sale, Other Discounts, and More
Hello gentle readers, and welcome to the SwitchArcade Round-Up for September 9th, 2019. In today's article, I've got a review of the brand new brawler, River City Girls. Besides that, we've got a couple of new releases to check out, along with the usual list of sales. I'm skipping the news today as there wasn't anything all that major to talk about, but I'm sure you'll get your fill of words for the day anyway! Let's go!
Aritcle Table Of Contents
Reviews
River City Girls ($29.99)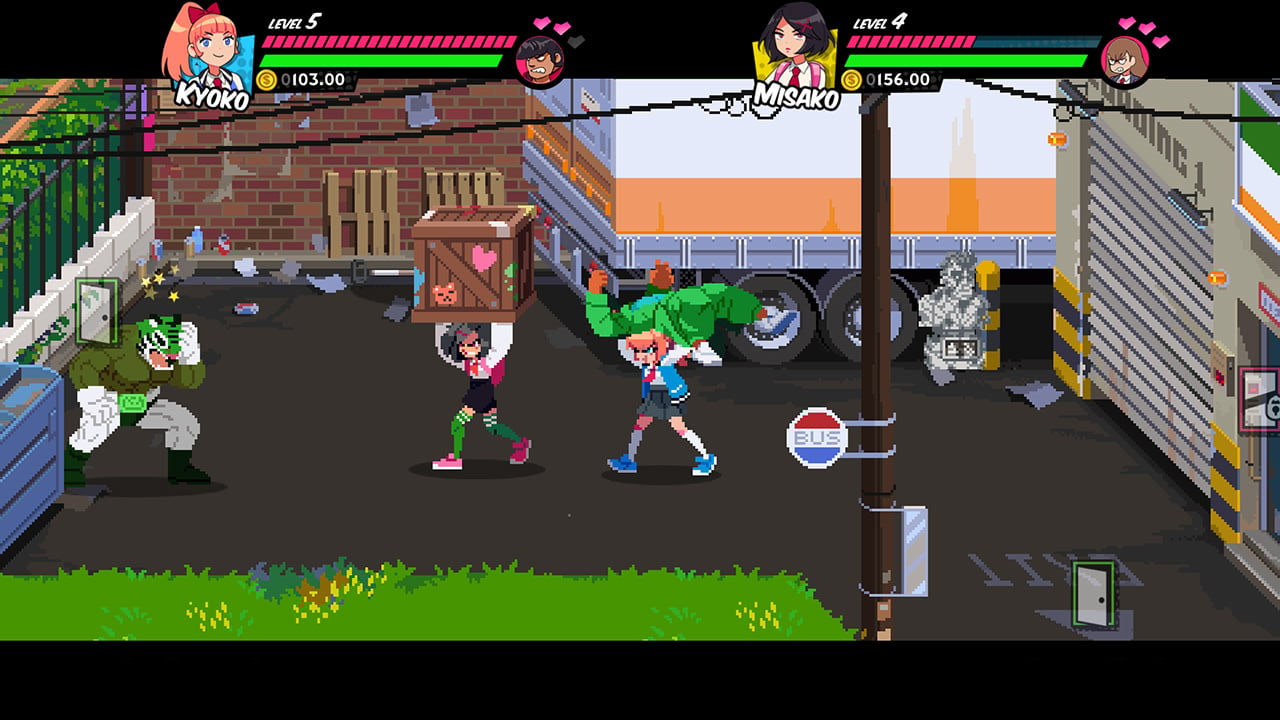 While I was making my way through River City Girls for this review, there were times where I loved the game, and times where I hated it. At the very least, I was rarely bored. This latest installment in the long-running Kunio-kun/River City franchise swaps out the usual playable duo of Kunio and Riki for the girls who love them, Misako and Kyoko. As it was developed by WayForward, the presentation shines brighter than any other game in the series ever has, but the core structure remains largely similar to River City Ransom. Take your chosen character to the streets of River City, an open world filled with shops, restaurants, and people itching for a fight. Pound your enemies, take their money, buy some upgrades, and away you go.
Kunio and Riki are missing, and the girls take it upon themselves to rescue them. That journey begins with breaking out of detention, which is a more difficult task than you might imagine. Owing to the game's RPG elements, your character becomes stronger and gains access to a wider array of moves as they level up. They can also augment their stats and move list by buying things at shops and dojos. This means that the early part of the game sees the girls at their weakest, with very few offensive options available. It can be a bit of a slog until you get your character built up a bit, especially if you're playing by yourself. Things get a lot better eventually, though since enemies scale with your level, the only way you'll really outclass them is by learning how to use your newfound moves effectively.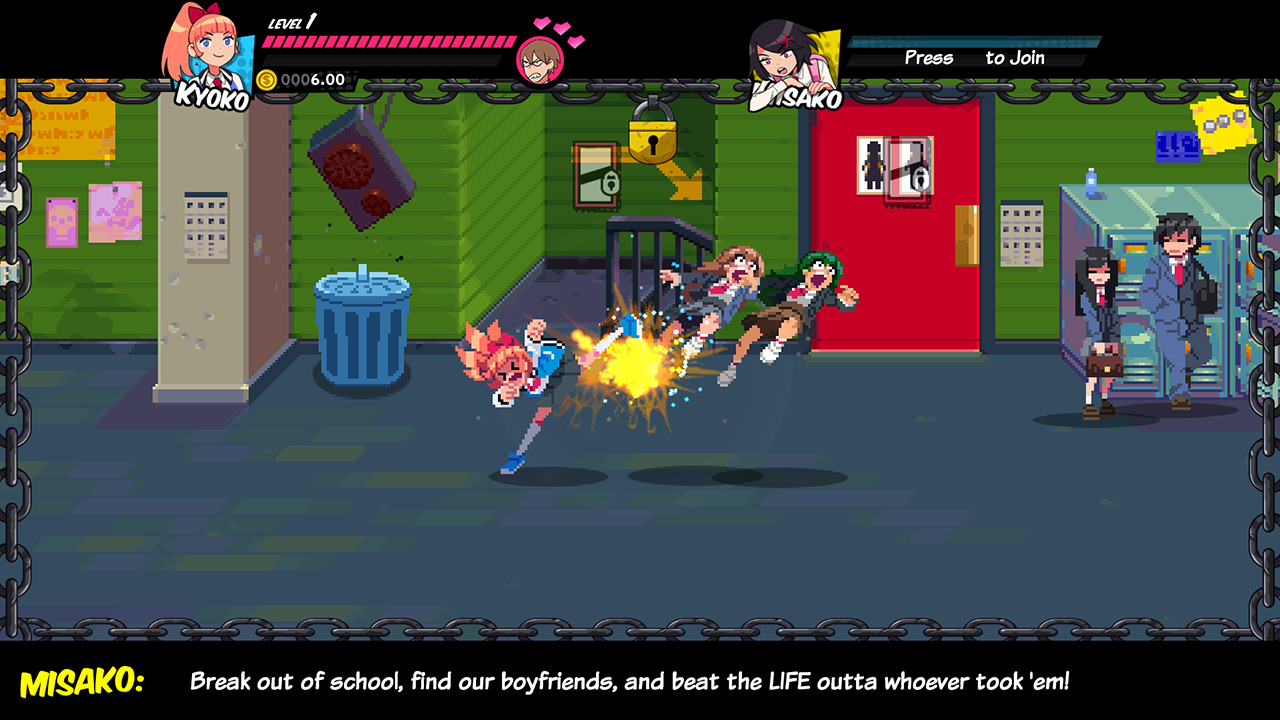 The combat in the game is fun, though not without its weak points. Enemies take way too long to go down, especially if you're using any character besides the one you've leveled the highest. It feels like it takes forever for an enemy to stand back up if you knock them down, and although you have a block/parry command, I could never get it to work reliably. Clearing a whole screen of enemies can take a lot longer than you might expect, and unlike many Kunio-kun games, you can't always run past your foes. The game will often lock you into a mini combat arena where you'll have to take out all of your opponents to move on. That all said, I don't feel any of these gripes are all that major. If you like beat-em-ups, I think you'll appreciate what River City Girls offers in terms of depth and style. I mean, Misako can perform a Stone Cold Stunner. What more can you ask for?
There was one issue that was a thorn in my side for the entire game, however. Unlike other Kunio-kun games, you don't zone to a new area by simply walking off the screen. That's probably a good thing. Instead, you hit a button, which would fine were it not for the fact that the button assigned to that action is one of the main attack buttons. So you zone in, get assaulted immediately, try to fight back, and end up zoning back out instead. Aggravating. Similarly, you use the same button to pick up weapons and items. Pretty standard for the genre, but it sometimes means that you'll bend down to pick something up when you wanted to strike instead, giving the enemy a free shot. I wish I could map both of these actions to the second set of shoulder buttons or something. It would at least be nice if I could move the zoning button to something a little less likely to be pressed.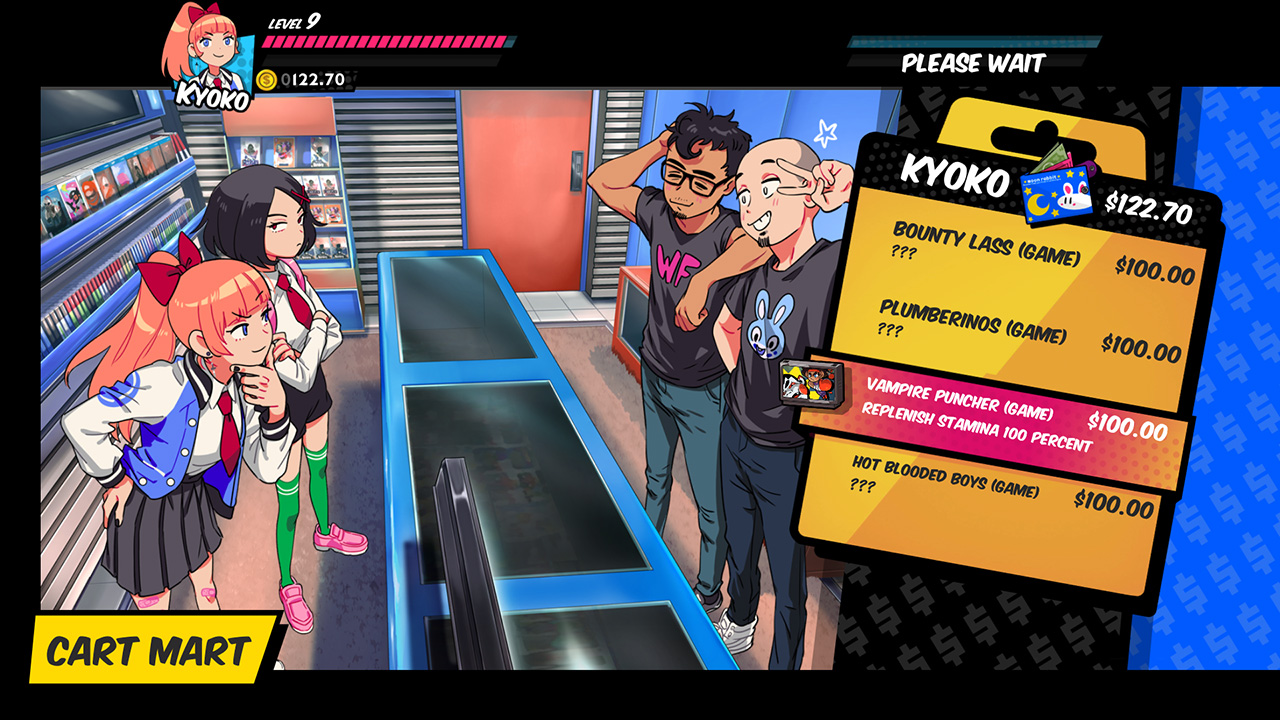 The game tries to get creative with its boss battles, and although I genuinely appreciate the ambition behind them, this is where the game can be its most unpleasant. In general, River City Girls feels like its difficulty was tuned for two players, and it's never more apparent than in the boss battles. In typical WayForward fashion, the bosses' health meters are quite lengthy and fights tend to drag on a while, long after you've likely discerned the patterns. Almost every boss is packing at least one move that can take a third of your life off, so you can't tune out during these fights either. The second and fourth bosses are tough but largely traditional fights. The fifth boss uses a gimmick that is as cute as it is out of place and unfair. The third boss seems to have gotten lost on her way to a Mega Man Zero game.
Oddly, the boss battle I found the least annoying was the final boss. It's a good fight with no stupid gimmicks. The extra bosses get a little silly but nothing as absurd as that third one. I suppose this is as good a place as any to talk about the post-game content, which is relatively important since your initial playthrough will likely wrap up in about five or six hours. There are hidden items to find and a New Game+ mode, along with a pair of unlockable playable characters. If you find everything, you'll have a new final boss battle and get yourself a different ending. Beyond that, there's not much to do but deck out all of the playable characters or start the game again. But you know, it's a beat-em-up. We don't ask for or even want these things to be 20-hour affairs. The initial ending is a bit anticlimactic, and the story in general borders on annoying, but I felt reasonably satisfied by what I got out of the game in pursuit of the true ending.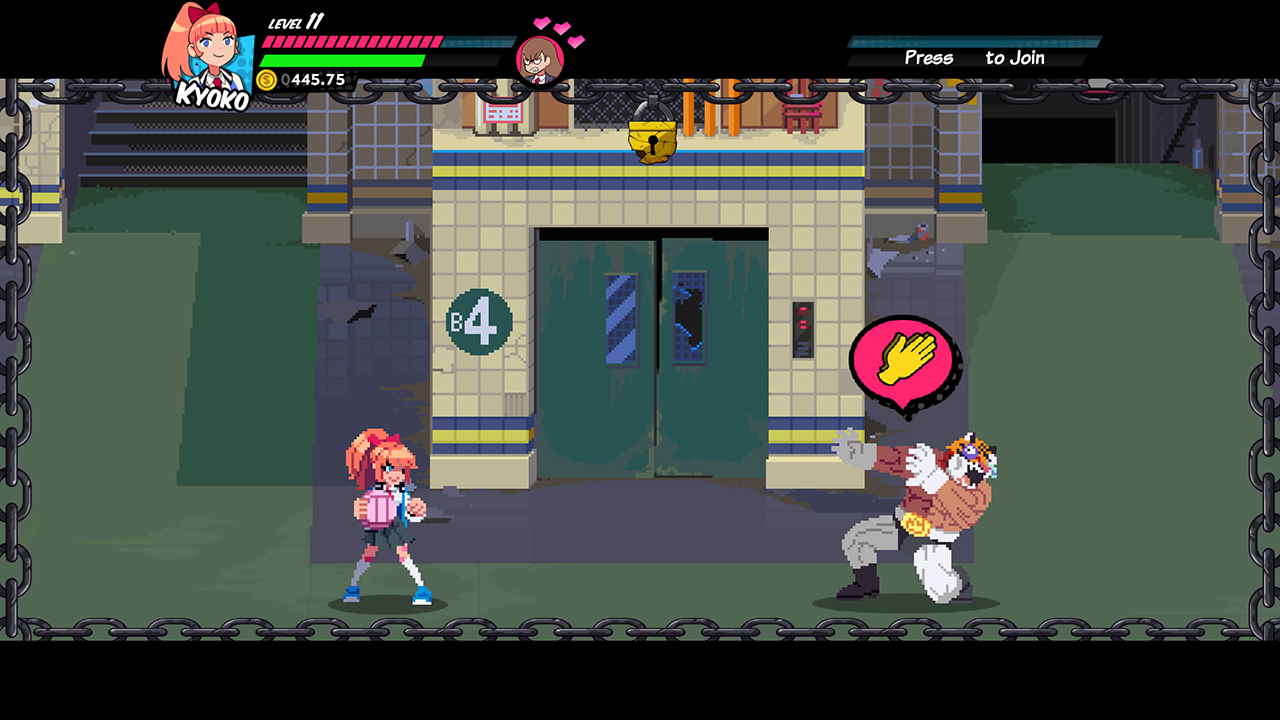 If you want to play the game with a second player, you need to be advised of a few things. First of all, there's no online multiplayer here. It's couch co-op only. Second, characters level up independently. Your benched heroes will earn a percentage of the experience and cash that your active ones do, but if you've been playing by yourself for a while, chances are good that whoever the other player picks is going to be underleveled for the enemies. It's also worth mentioning that the Switch version has performance issues when there are more than a few characters on-screen at once, and adding in a second player obviously only adds to that. The game hitches up as enemies load in, inputs are occasionally lost, and the framerate seems to take a little dive. Fortunately, those problems are at their worst in handheld mode, and I can't imagine too many people will be playing two-player like that.
These performance issues hamper what is otherwise a rather slick, polished game. The spritework and animations are incredible, and the soundtrack is excellent. Some of the hits lack impact in terms of how they sound, but they always look quite devastating. There's quite a bit of voice acting in the game, and it's all pretty good. The game leans hard into its humor, but how effective it is will vary from person to person. I found it a bit annoying at times and never as funny as it seems to think it is, but if nothing else I appreciated the many references to the Kunio-kun series and its sister franchise Double Dragon.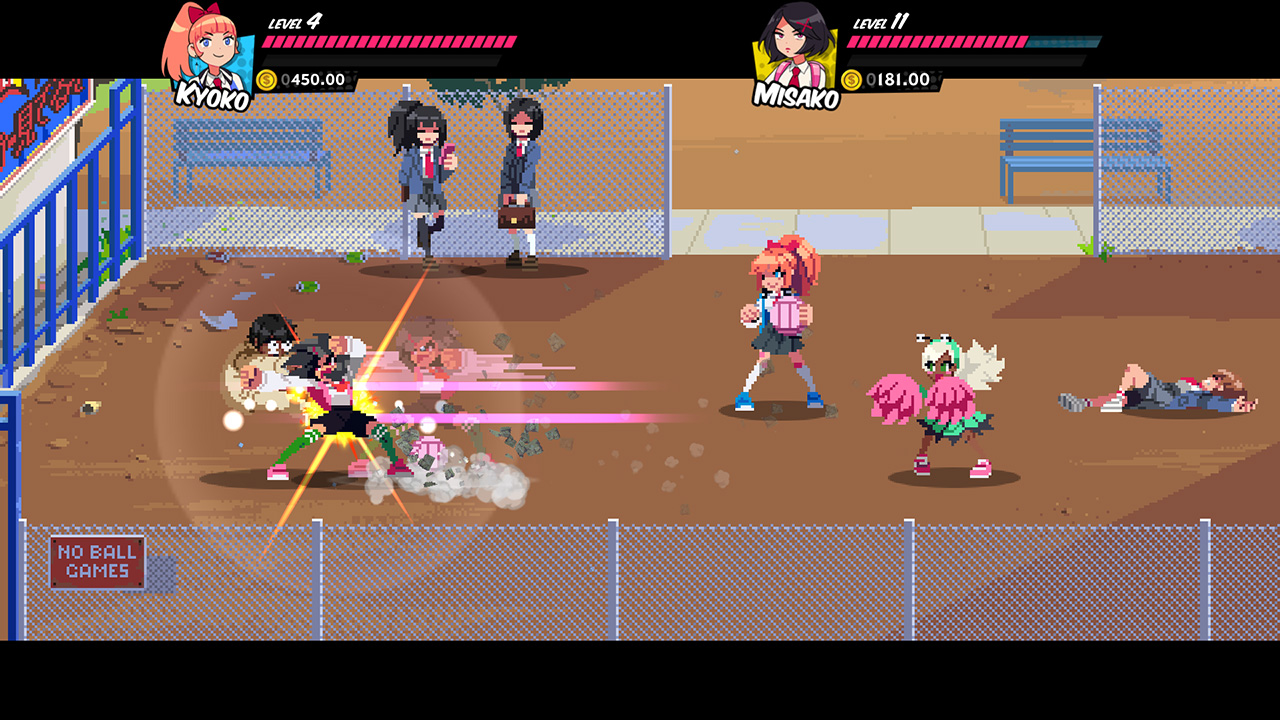 River City Girls is a solid beat-em-up with an amazing presentation that suffers from some very real technical issues on the Switch. The difficulty balance is all over the place, and the slow start sure doesn't do the game any favors. The game rarely tries to do anything ambitious with the Kunio-kun formula, and when it does it tends not to go very well. In spite of the performance issues, the Switch version is largely tolerable if you don't have any other options or really crave that portability, but if you're just going to play on your TV and have another system you can play it on, I'd advise that. I think fans of Kunio-kun or beat-em-ups in general will have a fairly good time with River City Girls, but others may want to wait for a sale or perhaps an update or two before taking the plunge.
SwitchArcade Score: 3.5/5
New Releases
Kaiju Khaos ($4.59)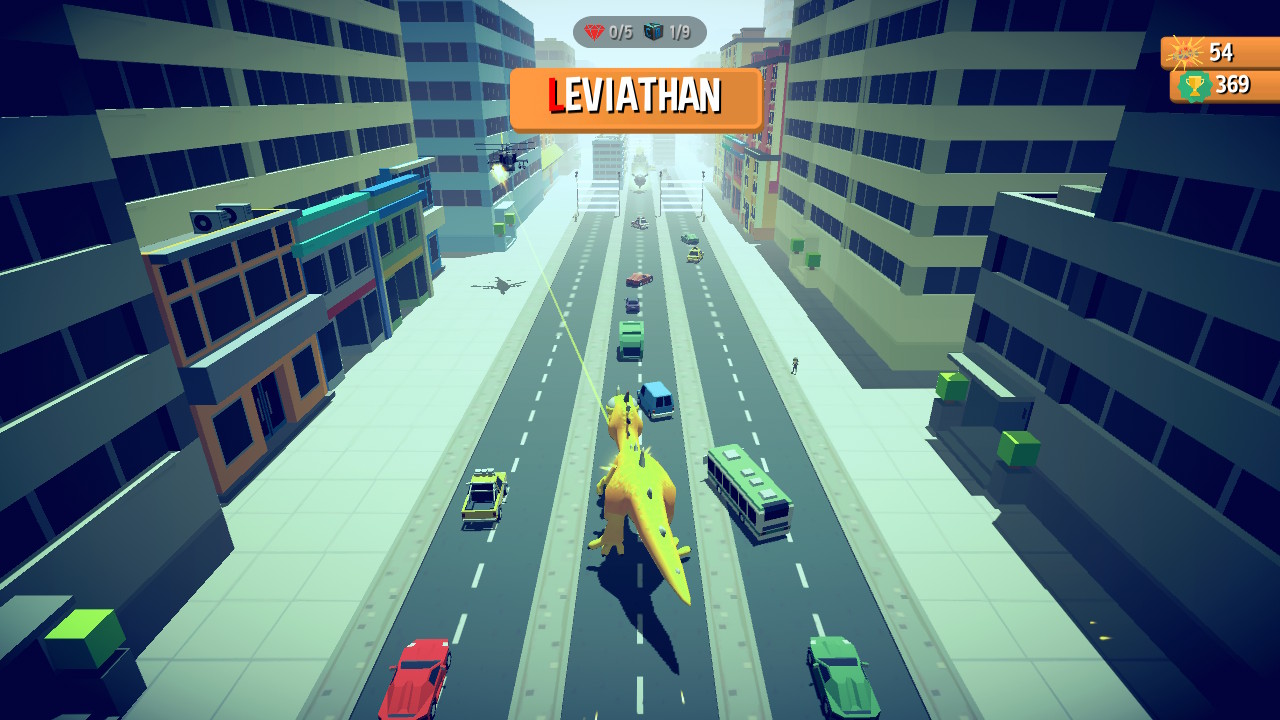 Hmm. Let's see here. You've got a character running into the screen with the camera positioned behind their back. Three streets stretching out into the distance. Three lanes, if you will. And your goal is to simply run as long as you can before failing. Something about this seems very, very familiar. There's an unlock system for extra kaiju and you're apparently supposed to raise them to increase their sizes, so I'm betting there's some kind of collectible currency scattered along the roads. Well, if you want to pay four bucks and change for what appears to be a pretty ordinary lane-based runner, I'm not going to stop you.
Hyperdrive Massacre ($7.99)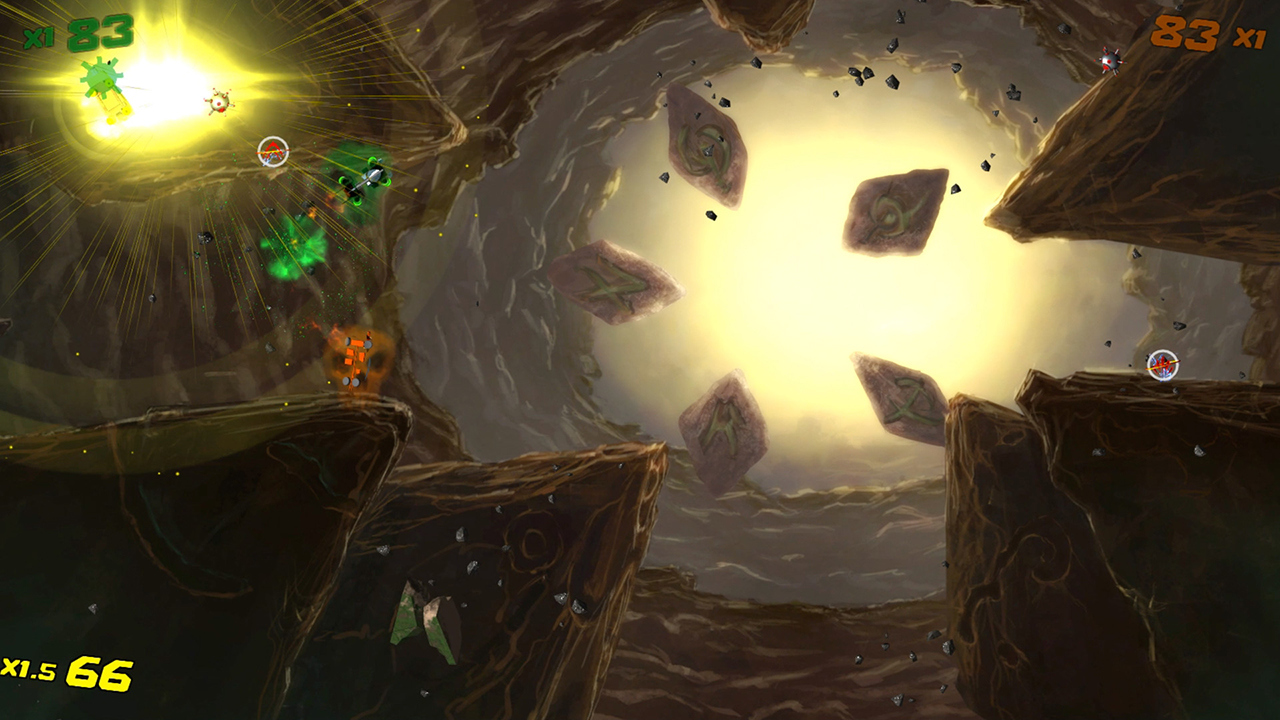 As near as I can tell, this is a multiplayer take on an Asteroids-style shooter. Up to four players can take on a variety of competitive and cooperative modes using characters drawn from a cast of wacky space battlers. It seems fine for what it is, but I feel like we've seen slightly more robust takes on this concept before on the Switch. Still, it might be worth picking up if you have friends or family you can pull in. It seems like the sort of game that anyone can pick up and play. I'd have to put some time into it to see how far the legs on the game go, though.
Sales
It looks like 2K Games is rolling out another sale, albeit not quite as comprehensive as some they've held in the past. As always, Civilization 6 is a great use of your money, and WWE 2K18 is not. Outside of that, there's a nice sale on the enjoyable Swaps and Traps, a tiny discount on Color Zen Kids, and some iffy-looking cheapies. At least they're different iffy-looking cheapies? In the outbox, the latest Ubisoft sale is coming to an end, so make sure you've picked up everything you want from there.
New Games on Sale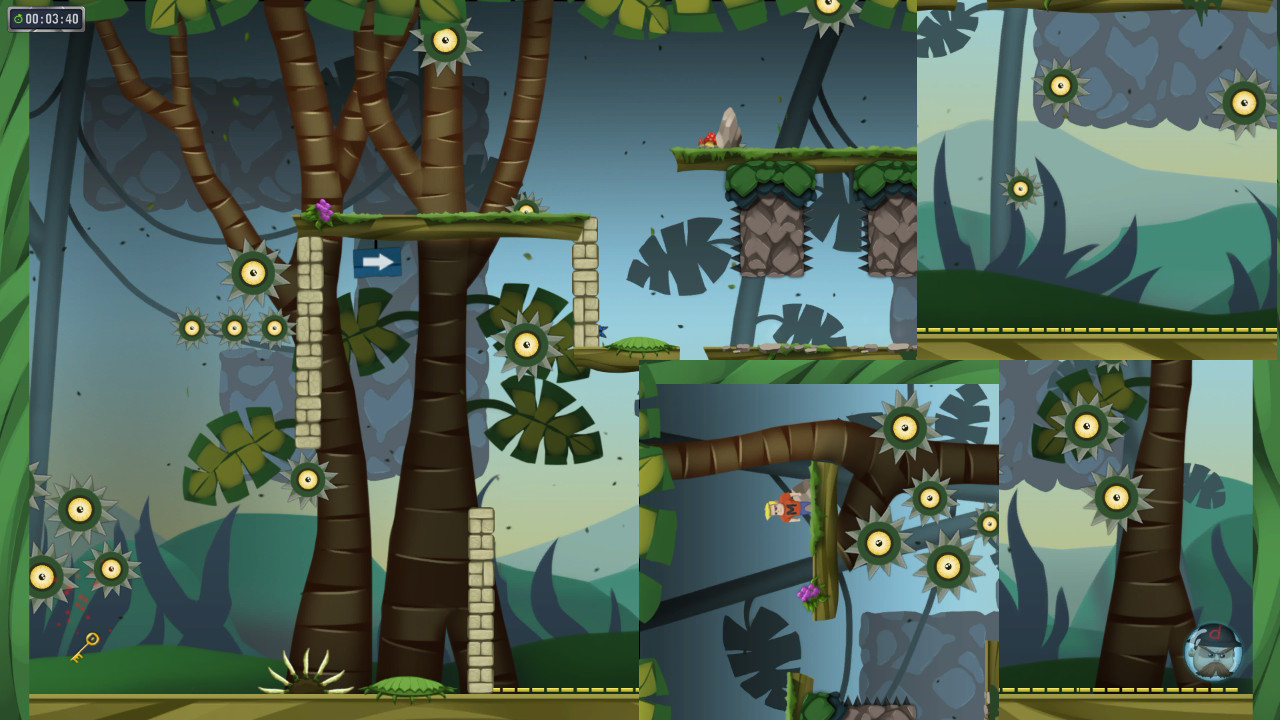 Swaps and Traps ($3.99 from $8.99 until 9/17)
Lucah: Born of a Dream ($10.49 from $14.99 until 9/13)
WWE 2K18 ($14.99 from $59.99 until 9/21)
NBA 2K Playgrounds 2 ($9.89 from $29.99 until 9/21)
Carnival Games ($13.99 from $39.99 until 9/21)
Sid Meier's Civilization VI ($35.99 from $59.99 until 9/21)
Hexologic ($1.19 from $2.99 until 9/20)
Pixel Action Heroes ($3.99 from $4.99 until 9/26)
Color Zen Kids ($3.19 from $3.99 until 9/26)
Braveland Trilogy ($7.49 from $14.99 until 9/20)
Rogue Bit ($1.99 from $4.99 until 9/22)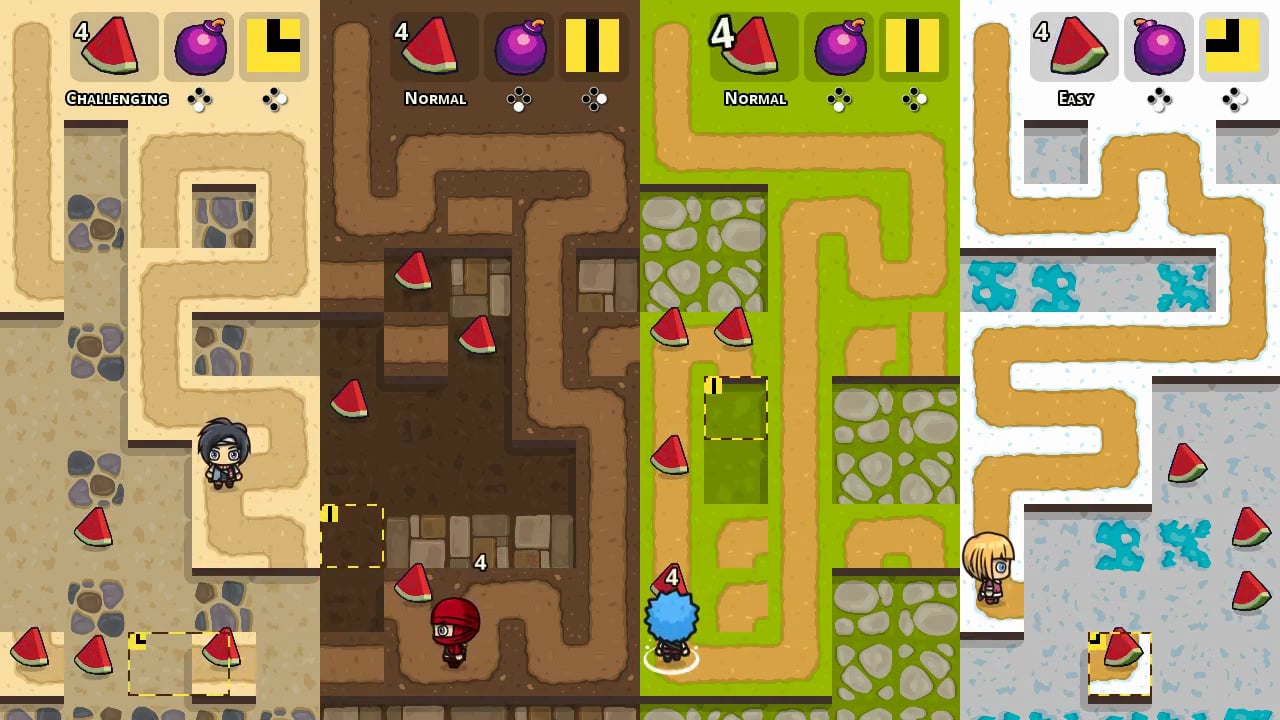 Watermelon Party ($0.99 from $4.99 until 9/22)
Himno ($3.99 from $4.99 until 9/23)
Jet Kave Adventure ($17.99 from $19.99 until 9/17)
Niffelheim ($12.74 from $14.99 until 9/20)
Guess the Word ($0.47 from $1.89 until 9/20)
Pet Care ($0.37 from $1.49 until 9/20)
Darkest Hunter ($1.32 from $5.30 until 9/20)
Hotel Dracula ($1.42 from $5.69 until 9/20)
Gym Hero – Idle Fitness Tycoon ($0.57 from $2.29 until 9/20)
Selma and the Wisp ($1.09 from $9.99 until 9/28)
Taimumari: Complete ($10.04 from $14.99 until 9/30)
Zeroptian Invasion ($3.74 from $4.99 until 9/23)
Iron Snout ($3.74 from $4.99 until 9/23)
Super Weekend Mode ($3.74 from $4.99 until 9/23)
Metagal ($3.74 from $4.99 until 9/23)
Peasant Knight ($2.24 from $2.99 until 9/23)
Sales Ending Tomorrow, Tuesday, September 10th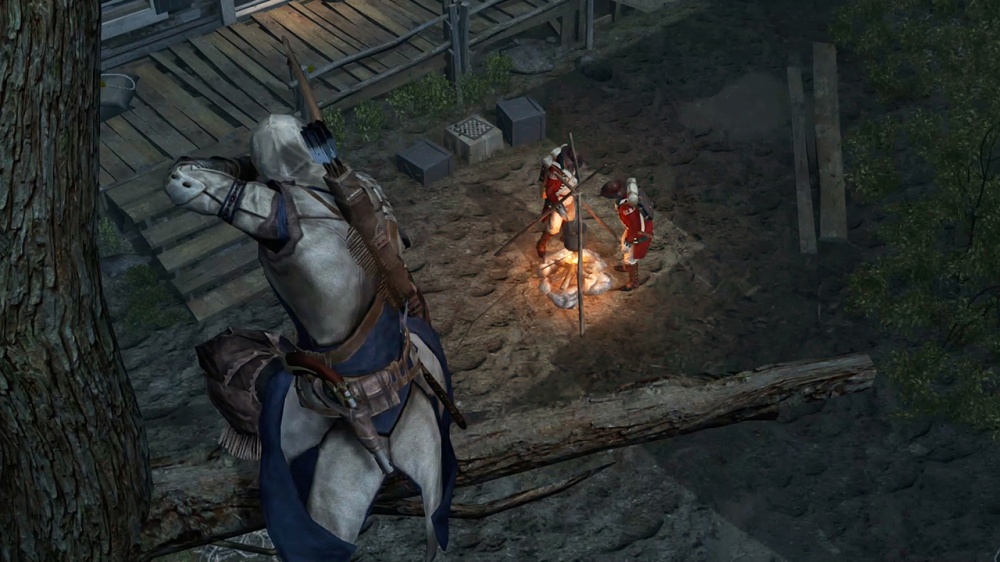 Assassin's Creed III Remastered ($26.79 from $39.99 until 9/10)
Bargain Hunter ($9.99 from $11.99 until 9/10)
Batman – The Telltale Series ($19.99 from $39.99 until 9/10)
Batman: The Enemy Within ($19.99 from $39.99 until 9/10)
Child of Light Ultimate ($7.99 from $19.99 until 9/10)
Doggie Ninja The Golden Mission ($5.00 from $8.00 until 9/10)
DragonFangZ ($12.49 from $24.99 until 9/10)
Hungry Shark World ($6.99 from $9.99 until 9/10)
Jeopardy! ($9.99 from $19.99 until 9/10)
Jumping Joe & Friends ($0.19 from $1.99 until 9/10)
Just Dance 2017 ($15.99 from $39.99 until 9/10)
Just Dance 2018 ($15.99 from $39.99 until 9/10)
Just Dance 2019 ($19.99 from $39.99 until 9/10)
Last Day of June ($9.99 from $19.99 until 9/10)
Legendary Fishing ($14.99 from $29.99 until 9/10)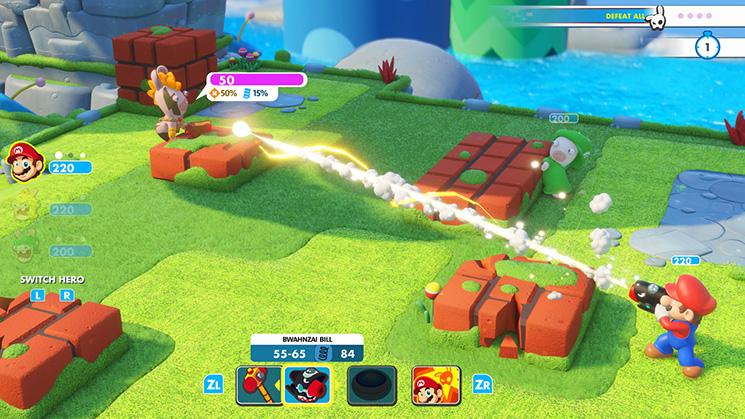 Mario + Rabbids Kingdom Battle ($19.79 from $59.99 until 9/10)
Monopoly ($15.99 from $39.99 until 9/10)
Northgard ($27.99 from $34.99 until 9/10)
Not Not – A Brain Buster ($0.49 from $1.99 until 9/10)
Rayman Legends Definitive ($15.99 from $39.99 until 9/10)
Risk Global Domination ($11.99 from $19.99 until 9/10)
South Park: The Fractured But Whole ($23.99 from $59.99 until 9/10)
South Park: The Stick of Truth ($14.99 from $29.99 until 9/10)
Sports Party ($19.99 from $39.99 until 9/10)
Starlink: Battle For Atlas Digital ($29.99 from $59.99 until 9/10)
Trials Rising Standard ($12.49 from $24.99 until 9/10)
Trivial Pursuit Live! ($9.99 from $19.99 until 9/10)
UNO ($5.99 from $9.99 until 9/10)
Valiant Hearts: The Great War ($9.99 from $19.99 until 9/10)
Wheel of Fortune ($11.99 from $19.99 until 9/10)
Wuppo: Definitive ($11.99 from $14.99 until 9/10)
That's all for today, friends. I think we've got a couple of new releases to look forward to tomorrow, and of course we'll be catching up on the news and whatever new sales come rolling in as well. I'm still preparing for the Tokyo Game Show, of course, and although I'm mainly there to cover mobile stuff, we'll see if I can indulge in a little Switch coverage as well. Have a great day, and as always, thanks for reading!